Our Restaurant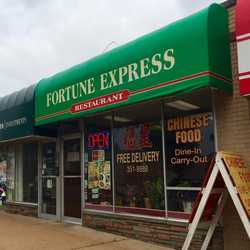 CONTACT INFO
Phone:
314-351-9988
Address:
6738 Chippewa Blvd.
(100' from Ted Drewes)
St. Louis, MO 63109
Map
Welcome to Fortune Express!
Serving you since 1998
FREE DELIVERY!
Coronavirus update: We are OPEN for Delivery & Pickup
($8.50 Minimum order. up to 6 miles)
Delivery Charge Applies to Farther Areas
Our Drivers Work for TIPS
Whether you're dining in, or ordering out, join our many loyal customers and enjoy our quality chinese food!
NEW: Online Coupons! Look for it in the menu
We accept most credit cards. Sorry, no checks.
We Do Catering & Parties!
Open 7 days a week!
Coronavirus update: We are OPEN for Delivery & Pickup
Please note our hours when placing an order:
Mon-Thurs 11:00am - 10:00pm
Friday 11:00am - 10:30pm
Saturday 11:30am - 10:30pm
Sunday Noon - 9:00pm