Our Restaurant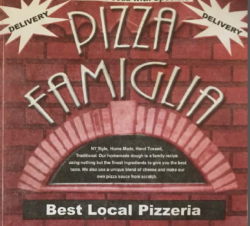 CONTACT INFO
Phone:
813-975-9126
Alternate Phone:
813-975-0024
Address:
1402 E. Fletcher Ave
Tampa, FL 33612
Map
Welcome to Pizza Famiglia!
Best Local Pizzeria!
We Deliver!
$15 minimum order
We are closed on Mondays
We deliver within a 10-mile radius!

Don't miss our Recession Specials - Free 2 Liter Soda & Bread Stix

NY Style • Home Made • Hand Tossed • Traditional
Our homemade dough is a family recipe using nothing but the finest ingredients to give you the best taste. We also use a unique blend of a cheese and make our own pizza sauce from scratch.
Open 6 Days a Week
Note - our kitchen is open late every day

We are closed on Mondays
Tuesday 11:00AM - 11:00 PM
Wednesday 11:00AM - 11:00 PM
Thursday 11:00AM - 11:00 PM
Friday 11:00AM - Midnight
Saturday 11:00AM - Midnight
Sunday Noon - 10:00 PM